The decision to develop and launch a website should be as important as deciding what products or services you should offer. With so many development companies offering to create the very best website for your business, the decision can be daunting. Even more confusing are the many options available for the types of website you can create.  Whichever company or technology you finally go with, one decision you should make is to include a CMS as part of your website.
Not all web companies explain sufficiently the pros and cons of the various CMS technologies and platforms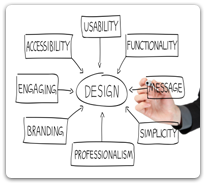 available to their clients. Further, not all business owners even understand what a CMS is or why they should care.
Traditionally, websites were typically created manually as collections of static HTML pages.  These pages were uploaded, stored, and served to the public exactly as they were originally created unless manually updated or modified by the developer.  Any changes to the website would require a skilled web master or developer to make even the most minute text changes.  The solution to this type of website management is the CMS (Content Management Systems).
A Content Management System, more commonly referred to as CMS, is by definition is a computer, or web based system that allows the creation, editing, publishing, and general maintenance of your website or web application. This usually consists of a collection of processes and work flow procedures that are used in a systematic yet mainly intuitive way to get the desired end result for your web pages. In its most useful implementation, your website's CMS should not require the involvement of a professional website developer or even someone with coding experience once it has been implemented and launched. If the user is familiar with Microsoft Word or any other standard word processor, they are more than qualified to maintain their own CMS powered website.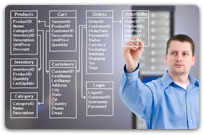 In addition to deciding on a CMS, website owners must also think about the two main options available for Content Management Systems.  These are open source vs. proprietary systems. Open source solutions are developed by the public developer community. These systems are typically free and available for use by anyone. Proprietary systems are developed by companies and are typically licensed for use.  A third option is the 100% custom developed CMS.  This is sometimes necessary because of specific requirements that neither existing open source nor proprietary CMS solutions can meet.
As far as websites are concerned, many open source options exist today that allow developers and designers to select the best one that will satisfy their client's needs. Your development team should take security, scalability, and ease of implementation into consideration when making a decision.  The ability for developers other than the original creators of your website to continue development and improvement is also important.
The most popular open source Content Management Systems used today are:
ASP.NET Content Management systems
| | |
| --- | --- |
| | DotNetNuke – The most popular and heavily supported .NET based CMS. This product has proven its worth and should be one of the first –if not first options when considering .NET based CMS options. |
| | Orchard – Microsoft's contribution to free open source software.  This is a rapidly growing option although many developers think it lacks some of the more common tools. |
| | Kinetico – This CMS offers multiple licensing options. It focus is on content Management, E-Commerce, and social Networking making it an excellent option for websites that wishes to make full use of these options |
PHP Content Management Systems
The PHP development community has the advantage of many more open source options. This is the platform that open source was born into, and a very active and passionate community ensures that it will be supported well into the future. The most trusted and popular of these are:
| | |
| --- | --- |
| | Joomla – This CMS can boast of being the most versatile and popular open source platform. With thousands of add-ons and ecommerce options, it the most popular choice for small and medium sized businesses. Companies like Ebay, Barnes & nobles, Ikea and many more trust this CMS for their flagship websites. |
| | WordPress – Although it begun as a primarily blog platform and remains the main blogging environment today, this CMS is fast becoming a top option for brochure websites, ecommerce, and interactive websites. |
| | Drupal – Possibly the most powerful of the PHP open source platforms, Drupal is used to build anything from basic websites to very large and complex enterprise level applications.  As a tribute to how stable, secure and powerful this platform is, the whitehouse in 2009 redeveloped its website from the ground up with Drupal. |
At BrixTec Web Solutions we start every project with detailed Business Analysis and requirements development.  An integral part of this planning includes the decision of which technology platform and CMS will be used to provide the very best outcome for that client and project. Whether open source, proprietary, or custom developed, we ensure that the solution is natural, flexible, and scalable.  We always encourage the more cost-effective route of starting with an established, proven CMS.  We consider our team to be experts in the development of outstanding DotNetNuke, Drupal, Joomla, and WordPress websites and web applications.
Contact Us, or call today for a  FREE QUOTE or a conversation on how we at BrixTec Web Solutions can help you create or update your company's website with a proven Content Management System 813 421 9352.